Stuff - Week 52
Reading Time 1 minutes & 46 seconds FOR A PODCAST OF THIS THOUGHT CLICK HERE Or Ipod Users Click Here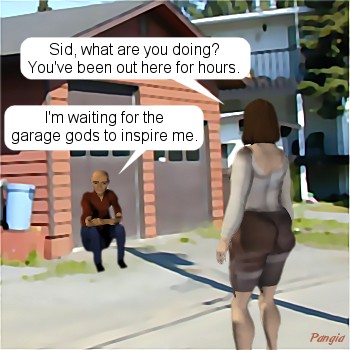 I never realised how much stuff I have until I moved house last year
My garage unfortunately is one of my dumping grounds for stuff I donít use very often, or should I say stuff I never use. But finally I got sick of walking passed my garage, feeling guilt about the mess
So I took the plunge and I decided to sort out my garage
Yes I decided to do it.
Simple as that
I took the screws and decided where to put them, the bolts and screwdrivers, paints and memorabilia, yes for everything in my garage I decided what to do with it
Chuck it or sort it, with plenty of stuff going straight in the trash.
Hour on hour I felt better and better, and within a few hours Iíd finished
When it was completed it, I felt amazing, not just a little pleased but a huge sense of relief. I felt like after years of running a race I had finally crossed a finishing line
No more guilt
Proud that I had taken action when I had not made the effort to do so before
Proud to be an efficient, organised, well presented person, rather than reinforcing the opposite view of myself every time I passed my garage.
So what other stuff, paperwork, equipment, lists, business-cards, memorabilia or anything else do I need to decide what to do with.
What other actions should I take so that my stuff ceases to be something that saps away my positive energy and becomes something that actually makes my life better!
With all that, Iím off to sort out more of my stuff
Till next week get sorted and rid yourself of that guilt.
David Gardner
Ps if you want more idea on how to get organised then get the brilliant CD on "Getting things Done" by David Allen it brilliant. I can't find a link in the UK but I've bought it from his site and it came to the UK without issue.