Visualising an argument with Alien Bowling - 2nd September 2007
Reading Time 1 minute 53 seconds FOR A PODCAST OF THIS THOUGHT CLICK HERE Or To Subscribe Here
<![if !vml]>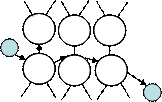 <![endif]>
I was having a coaching session from an HR colleague of mine, Gaynor, when we got into a discussion about conflict management
The discussion reminded me of a piece I'd written a few years earlier on how eight year olds were taught to visualise an argument, by friend and Primary School Teacher, Clare.
At the time I was fascinated, because I didn't know how to visualise an argument and yet interestingly there are 8 years olds that did.
The method is called "How to visualise an argument with the help of an Alien Bowler"
So now with a little more understanding thanks to Gaynor, I've tried to put a better explanation together.
So here goes
Firstly in Alien bowling you've got to choose which ball you want to play with.
There are five possible balls to choose from.
Compromise, Accommodate, Avoid, Competitive, or Collaborative
Ok now onto the delivery
In Alien bowling there are two main components that you need to address
1) The body and heart also known as the emotional component
2) The head also know as the logical component
.
These components should be based around three key points
With each point having logical and emotional components supporting them
The Aliens legs and feelers means that you can have more than one emotional and logical component for each point
However do make sure that you cover both sides of the argument, don't be tempted to decapitate the alien!
The moment you let go of the ball or in other words. the moment you finish is the most crucial moment so make sure your third and final point is your most persuasive,
Now hopefully with a little bit of Alien bowling you'll be a little bit more successful in getting your point across
So till next week happy Alien bowling.
David Gardner