The Hudson Bay Start - Week 47
Reading Time 2 minutes & 10 seconds FOR A PODCAST OF THIS THOUGHT CLICK HERE Or Ipod Users Click Here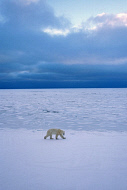 One fair June morning in 1668, more than half a century after the mutinous crew of the Discovery had pushed Hendrik Hudson into an open boat in what became Hudson Bay and set him adrift to die, the 50-ton ketch Nonsuch with a company of 42 hoisted anchor in Gravesend, England and sailed away for Hudson Bay to open up the fur trade. In the process the Hudson Bay Company was set up which is thought to the oldest company in North America
Hugely successful almost from the start, the hardbitten skin hunters who worked for the company fought famine and cold, "the feare in the buttocks, . . . the belly empty, the weariness in the bones. . . ."
It was a risky job as hunters would have to survive on their own in the bleak frost bitten artic wilderness, so having the right supplies was literally a matter of life and death.
Hence the hunters invented a technique called the 'Hudson Bay Start'.
Hunters would pack up as if they were going to leave for the season but only canoe a short distance before camping overnight. Next morning they would canoe back and collect any missing supplies or correct an wrong supplies, before heading out for real.
Clearly this approach didn't come for free - the hunting season was quite short - so while it reduced risk it also reduced the time they had to hunt enough animals so that they could survive financial for the rest of the year (sound familiar?)
But the fact that among these hunters it was so common practice I think demonstrates that the hunters thought it was worth while investment
Its an interesting technique that some project managers already apply to their projects and I wondered if I used the Hudson Bay Start on a few more of my projects, activities, journeys etc how differently would things turn out?
What about you?
So till next week get the start right to everything you do.
David Gardner
___________________________________________