THIS WEEKS THOUGHT A Mathematician, a Magician and a Croupier? - Week 49

Reading Time 3 minutes & 23 seconds FOR A PODCAST OF THIS THOUGHT CLICK HERE Or Ipod Users Click Here

(sorry its a long one but I didn't want you to miss anything)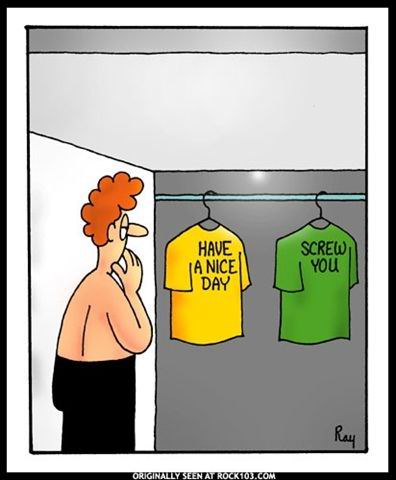 Well I thought I'd carry on the theme on decision making from last week. After all everything we do, have and know is due to the decisions we make.
Last week the BBC aired a TV program on decision making, and here is my paraphrased version of the highlights
1) The mathematician - There is an equation that you can use for every decision, you just need to work out the variables and their relationships. Then its simple to work out the right decision to maximise your chance of success. Interesting even if you get the maths wrong considering your options and the variables will dramatically improve your chance of making a good decision.
2) The influencer - In an experiment unknowing participates held a cup of hot coffee for a minute before they interviewed someone, it was always the same man, behaving in the same way. Then they carried out the same experiment but this time asking the participates a hold a cold drink for about a minute. Incredibly those who held the hot drink were much more positive about the man they were interviewing than those whom had held the cold drink. So be aware that you can be, and mostly likely are, being influenced in some very subtle ways.
3) The Croupier - People try to avoid losing what they've had. The a croupier firstly gave people (group 1) £20, before asked then if they wanted to walk away or bet the £20 on a roulette table, where success paid back £50 but failure lost £20. Then he did the same thing but time he phrased it differently (group 2). Instead he gave people £50, but before giving them the choice to walk away he took £30 back and offered them the same gamble. It is the same decision, do I bet £20 to win £50 or walk away. However people whom had had £50 in their hands and had £30 taken away (group 2) showed a much greater tendency to take the gamble. Its thought people do this because emotionally they don't want to lose something they already had. Further experiments when simultaneously looking the brain in an Magnetic Resonance scanner have shown that people make decisions in the "Amygdale" or the emotional part of the brain. and people who could make better decisions have a more active frontal lobe. So if you sense check your decisions, which are all made emotionally, with the logic in your frontal lobe and you'll end up making much better decisions.
4) The Magician - A magician asked participate to choose which was the best looking face, by selecting one of two faces shown on a photo card. Then through a simple card trick he occasionally gave the participant the wrong face when he asked them to explain "why did you choose that one?" Interestingly about 80% of people don't pick up the switch even after being presented with a wrong face a number of times. Instead they post rationalised the decision, giving reasons why this face was the most attractive out of the two. So be aware that you will post rationalise bad decisions to create a belief that they were good decisions. In addition be aware that when others are giving you advice they may be post rationalising their own bad decisions.
So till next week consider your decisions, pour yourself a nice warm cup of coffee and hopefully you'll decided to come back next week so as not to miss out on some more great ideas.
David Gardner