THIS WEEKS THOUGHT How to Live on Twenty-Four Hours a day - WEEK 46
Reading Time 3 minutes & 26 seconds FOR A PODCAST OF THIS THOUGHT CLICK HERE Or Ipod Users Click Here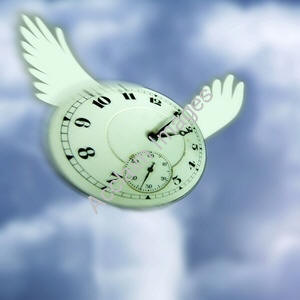 This is brilliant it a short exert from Arnold Bennett's article called "How to Live on Twenty-Four Hours a day" published in 1910.
It (time) is the inexplicable raw material of everything. With it, all is possible; without it ,nothing. The supply of time is truly a daily miracle, an affair genuinely astonishing when one examines it. You wake up in the morning, and lo! Your purse is magically filled with twenty-four hours of the un-manufactured tissue of the universe of your life! It is yours. It is the most precious of possessions. A highly singular commodity, showered upon you in a manner as singular as the commodity itself! For remark! No one can take it from you. It is un-steal-able. And no one received either more or less than you receive
Talk about an ideal democracy
In the realm of time there is no aristocracy of wealth, and no aristocracy of intellect. Genius is never rewarded by even an extra hour a day. And there is no punishment. Waste you infinitely precious commodity as much as you will, and the supply will never be withheld from you. No mysterious power will say:- "This man is a fool, if not a knave. He does not deserve time; he shall be cut off at the meter."
It is more certain than Consols (British financial bonds), and payment of income is not affected by Sundays.
Moreover, you cannot draw on the future. It's impossible to get into debt!
You can only waste the passing moment. You cannot waste tomorrow; it is kept for you. You cannot waste the next hour; it is kept for you
I said the affair was a miracle. Is it not!
You have to live on this twenty-four hours of daily time. Out of it you have to spin health, pleasure, money, content, respect, and the evolution of your immortal soul. Its right use, its most effective use, is a matter of the highest urgency and most thrilling actuality. All depends on that.
Your happiness - the elusive prize that you are all clutching for, my friend! depends on that
The supply of time, though gloriously regular, is cruelly restricted
Which of us lives on twenty-four hours a day? And when I say "lives", I do not mean exists or "muddles through"
Which of us is free from that uneasy felling that the "great spending department" of his daily life are not managed as they ought to be?
Which of us is not saying to himself - which of us has not been saying to himself all his life: "I shall alter that when I have more time"?
We shall never have more time. We have, and we always have had, all the time that there is
WOW! what a great clip and thanks Peter of the Achievers Edge for point me in the direction of this incredible piece of literature!
Till next week, the time is ticking and its never coming back so enjoy it!
David Gardner