Peace of Mind - Week 37
Reading Time 1 minute 56 seconds FOR A PODCAST OF THIS THOUGHT CLICK HERE Or Ipod Users Click Here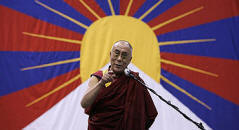 It was the 14th October and I tossed and turned in bed, a million thought rushing round my head. Desperate to find the peace of mind required to bring about deep sleep.
At the same moment 4217 miles away in Atlanta, USA, on a wet and foggy day, the crowd focus their concentration on the words of one man.
The Tibetan man bowed his head and silence fell. Finally the Dalai Lama spoke
"According to my own little experience, what I learned, when we have difficulties, our most reliable friend is our own inner feelings," he said. "Peaceful society must come from genuine inner peace."
It was now the following day and I had a million jobs to do whilst juggling my two lively children. My life style seemed hectic and I wondered what inner peace was and whether it was possible to find it in the hectic world I live. I decided to come back to the thought at a more peaceful moment!
When I return to the thought my mind drifted back to a definition poised by author Brian Tracy.
Peace of mind he suggests is defined as being
Free from anger, free from guilt and free from fear.
So I pondered maybe if I live a little more often in the moment, rather than worrying about the past or the future, guilty about what I havenít done and fruitlessly angry at what others have done.
Then perhaps Iíll be doing my bit for a peaceful society, through my own peace of mind, and you never know maybe Iíll sleep better into the bargain.
Till next week start the journey to your own peace of mind
David Gardner