The Einstein Factor? - Week 50
Reading Time 1 minutes & 58 seconds FOR A PODCAST OF THIS THOUGHT CLICK HERE Or Ipod Users Click Here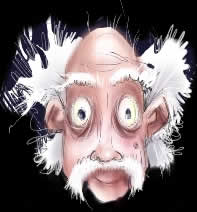 "Write it down before you forget I commented".
Louise my wife had been trying for some time to figure out an inspiration idea for a presentation she had to do. Suddenly on an idle Sunday afternoon drive, a squirrel ran out across the road and for some unexplained reason this resulted in a great idea for her presentation to pop into her head. Isn't it weird that more often than not this is how we generate good ideas.
However we have a new thought every 11 seconds so unfortunately if your not quick this thought is likely to get over written or buried in your brain, beyond recall, very quickly.
Unfortunately forgetting this idea not only means we lose that good idea, but we actually lose our ability to have good ideas according to Dr Win Wenger, author of "The Einstein Factor". This is because of the law of cause and effect. What win says is that we get more of what we reinforce. So if you don't do anything with your good ideas except forget them, your likely to develop an tendency not to have good ideas.
The good news is that if you have a good idea and ever time you do something with it, your going start having more and more good ideas.
The answer is to keep a journal of your thoughts and ideas. Not every thought but every thought that takes you down a new road of understanding or opportunity. According to Dr Win Wenger if you want to be a genius you should be recording between 30 and 50 thoughts a day. Apparently Einstein and Faraday both kept extremely compressive journals. Not just experimental notes but ideas and observations related to ever part of their being.
So if you don't want to lose all your good ideas at least without a second thought and even more importantly if you want to develop your ability to have good ideas, then start writing your good ideas and thoughts down.
After all isn't it good ideas that enable us to get what we want in life. I think so.
Till next week
David Gardner
PS A little trick I've learnt is to index your thoughts. There is a million ways to do this and mine may not work for you but this is what I do. I number ever page with day / month / incremental page number of the day e.g. today first page would be 240201, then on the index page I note the idea, thought with the page reference etc. This makes it really simple to refer back to a specific thoughts or to scan through the headings of your thoughts.