Is Getting Divorced an Easy Decision? - Week 48
Reading Time 2 minutes & 10 seconds FOR A PODCAST OF THIS THOUGHT CLICK HERE Or Ipod Users Click Here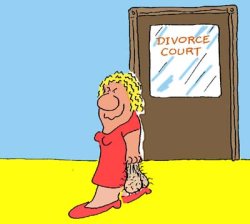 "People get divorced because they get bored and it's an easy decision to make" she said
I was at my sister's birthday party and I happened to sit near one of her old school friends, a friend I hadn't seen for a decade. During the course of the normal formalities I asked her what she was up to now. She said she was a family lawyer and having graduated from Cambridge University, I assume she's a pretty good one!
So I asked the question
"Why do people get divorced?"
After explaining various circumstances where people get divorced, whilst appearing quite un-opinionated as to whether these people should have got divorced, she summed up with
"Well people normally get divorced because they get bored and it's an easy decision to make."
She then clarified herself by saying that this wasn't the only reason, but in her opinion quite often it was the main reason.
However what I thought was most interesting, was that she said it was an "easy decision", because this type of decision (e.g. a decision about relationships, money, career change etc) is usually referred to by people as "a difficult decision".
Again she clarified herself by saying (this time I've paraphrased) that even though this decision may have a huge number of painful consequences, the decision itself was easy and simple, in fact it was probably the easiest and the simplest way to resolve their relationship problems, providing they accepted the consequences, even if they didn't know what they were.
Her comment reminded me of the Acres of Diamonds story where an old African farmer left his farm looking for diamonds when there were literally acres of diamonds on the farm he left. The issue was he didn't know what a raw diamond looked like, in the end he threw himself into the ocean a broken man. In this story his decision to go off to look for diamonds was a simple and easy decision in his quest for wealth. So on reflection I wondered
What would have happened if the farmer had gone and spent time learning how to find and spot diamonds?

What other options do you have if you're not happy with your relationship other than divorce?
But my main thought is
Till next week make rewarding decisions
David Gardner
___________________________________________