WHO SHOULD USE THIS SITE?
This site is a Personal Development site which is designed to help us think. As the writer & thinker Bernard Shaw said
"Most people don't take the time to think. I made an international reputation for myself by deciding to think twice a week."
This site takes just 2 to 3 minutes to read or listen to (via the podcast) every week and it's free. The site doesn't tell us what to think, but it purpose is to direct our thoughts down new roads. The Thoughts are based on material from great authors like Brian Tracy, Napoleon Hill, Steven D Levitt, John Elliot, Dave Allen, Jim Collins, Peter Thompson plus many more, coupled with a little bit of my own thinking. In addition I have chosen my favourite resources which are accessible from the menu on the right. I hope you enjoy this weeks thought (below) and don't forget to check out the archives (below) for any thoughts you've missed. Till next week - David Gardner
_______________________________________________________________________
THIS WEEKS THOUGHT Milo the Greek - 23rd September 2007
Reading Time 1 minute 44 seconds FOR A PODCAST OF THIS THOUGHT CLICK HERE Or To Subscribe Here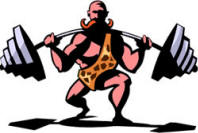 Well I often get some great ideas from the stories I read but this week the story from Peter Thomson (author of the achievers edge) is so good, I'd thought I'd share it as Peter wrote it
Milo the Greek was a remarkable man.
Born in the Greek Colony of Croton in the late 6th century BC he was a six times Olympic champion.
And boy! Was he strong!
One story about his incredible strength tells how he became so – here it is:
To demonstrate his power he told friends that he would lift a full grown cow above his head.
He tried and somehow despite his strength he couldn't do it.
So he bought a young calf – and picked it up – easily.
Each day, as the calf grew, he picked it up again.
Day by day, week by week, month by month – as the calf grew in size and weight so Milo grew in strength.
Legend has it that - 4 years later he hoisted above his shoulders the now 4˝ years old cow which he carried the length of the arena then killed and ate it.
Ah – now I see how it's done:
So the way we get 'strong' is to start small and increase the difficulty of the task as we continue to practice – make sense doesn't it?
I wonder if you and I are using this idea enough in our lives.
Get a little bit better at what your practicing
Till next week
David Gardner