Jamie's food for thought - WEEK 44
Reading Time 1 minutes & 25 seconds FOR A PODCAST OF THIS THOUGHT CLICK HERE Or Ipod Users Click Here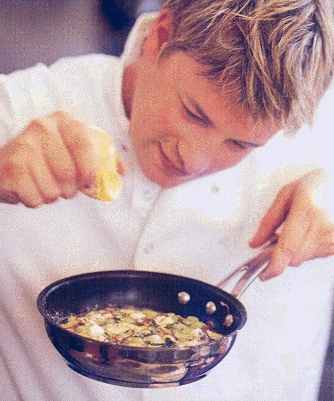 I have always had a real interest in cooking.
However even when I use my Jamie Oliver recipe book, I'm sure that my meal doesn't taste or look quite as good as Jamie's.
One of the reasons is of course that for great cooking you need to have great ingredients
And Jamie has learnt how to find the very best ingredients.
But of course its not just about finding great ingredients, because ingredients are rarely the same twice.
Let me explain this with a simple example. The tomato your using in this meal will taste slight different compared with the tomato you used last time. That's because the tomato is a little bit riper, or it come from a new bag which came from a different farm, or it was subjected to different weather, in fact there is almost an infinite number of reasons why this tomato will taste slightly different to the last one you used.
In fact what makes a good cook a great cook is their ability to find great ingredients AND their ability to adjust the recipe so they get the very best from the ingredients they have.
But isn't everything we try and achieve a bit like cooking a meal.
So I pondered
What things and people am I mixing together to deliver my goals,
Do I have a deep understanding of these things and people?
And do I then flex what I'm doing to get the most out of them?
So till next week cook up some great achievements
David Gardner
___________________________________________