THIS WEEKS THOUGHT Who Made the World - WEEK 41
Reading Time 1 minute 37 seconds FOR A PODCAST OF THIS THOUGHT CLICK HERE Or Ipod Users Click Here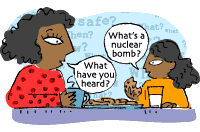 It was an idle Tuesday breakfast and I was munching away on my cornflakes when Katherine, my 4 year daughter asked "Who made the world"
What a question, challenging and refreshing as well fascinating.
Fascinating because only children tend to ask these simple but fundamental questions
It reminded me of a paragraph I read in a Stephen Hawkins books "A Brief History of Time".
This is what the paragraph said
"We go about our daily lives understanding almost nothing of the world. We give little thought to the machinery that generates the sunlight that makes life possible, to the gravity that glues us to an Earth that would otherwise send us spinning off into space, or to the atoms of which we are made and on whose stability we fundamentally depend. Except for children, who don't know enough not to ask the important questions"
So perhaps we should realise that we don't know enough and ask at least ourselves the important childish questions
Childish questions like, "Where do you come from", "What happens when you die", "Am I good", "Why do you go to work", and "Who made the world", along with countless others which I'm sure you've heard
Because if we do, it may make us decide to do things a little differently in the future
So till next week enjoy questions
David Gardner