"This site is designed for people who want to take action to make the most from life. It's full of great stories and thoughts to feed your brain. In addition there are links to my favourite resources (all of which I have and personally recommend). The stories take just 2 to 3 minutes to read or listen to (via the podcast) and there is a new one every week and it's free."
David Gardner
Reading Time 2 minutes & 55 seconds For a Podcast of this thought please click here Or iPod & iTunes - Users Click Here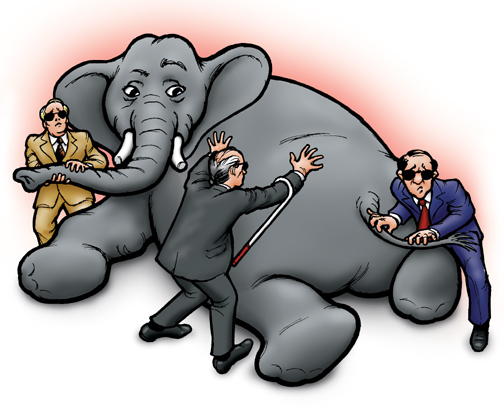 This is a great story with versions dating back over 150 years. So with no more introduction here goes.
One day, three blind men were talking when one of them recalled, " I heard that an elephant is a queer animal. Too bad we're blind and can't see it."
"Ah, yes, truly too bad we don't have the good fortune to see the strange animal," another one sighed.
The third one, quite annoyed, joined in and said, "See? Forget it! Just to feel it would be great."
It so happened that a merchant with a herd of elephants was passing, and overheard their conversation. "You fellows, do you really want to feel an elephant? Then follow me; I will show you," he said.
The three men were surprised and happy. Taking one another's hand, they quickly formed a line and followed while the merchant led the way. Each one began to contemplate how he would feel the animal, and tried to figure how he would form an image. After reaching their destination, the merchant asked them to sit on the ground to wait. In a few minutes he led the first blind man to feel the elephant.
With outstretched hand, he felt the two legs from the top to the bottom, and with a beaming face, turned to say, "So, the queer animal is just like that."
Thereupon the second blind man was led to the rear of the elephant. He touched the tail which wagged a few times, and he exclaimed with satisfaction, "Ha! Truly a queer animal! Truly odd! I know now. I know."
The third blind man's turn came, and he touched the elephant's trunk which moved back and forth turning and twisting and he thought, "That's it! I've learned."
They thanked the merchant and went their way..
"Let's sit down and have a discussion about this queer animal" said the second blind man and once seated he said, "This queer animal is like our straw fans swinging back and forth to give us a breeze. However, it's not so big or well made. The main portion is rather wispy."
"No, no!" the first blind man shouted in disagreement. "This queer animal resembles two big trees without any branches."
"You're both wrong." the third man replied. "This queer animal is similar to a snake; it's long and round, and very strong."
How they argued! Each one insisted that he alone was correct.
Of course, there was no conclusion for none of them had examined the whole elephant.
So a great story and I wondered am I trying to see see things from all perspectives and do I appreciate that often my view is similar to that of one of the blind men.
Till next week improve your perspective and see that your view is rarely the full picture.
David Gardner

A special deal for readers
"THE ACHIEVERS EDGE" 
Everyone Someone Anyone and No-One
Zealots, opponents and golden supporters
Twelve questions to high performance
The bee can't fly but no one told the bee
The Maverick Mindset of Baseball
Two Cannibals and a Beautiful Girl
I use Amazon for books
There are loads of great audio programs at Nightingale Conant's ,web site here,